MEET THE SOURCE
Keesjan van der Klooster is a Dutch Mystic who enables you to experience directly the powerfield and Love of the Source through his talent. Sanskrit, the ancient language of India, has a beautiful name for a meeting in a divine power field. They call this Darshan. Being together in this field of love with Keesjan is a european/ western form of Darshan. This is called Umoja in Swahili. This meeting brings possible cures, outlinings, realizations, transformations and progress. The Darshan / Umoja Source meetings are available with an entry level contribution or to your own insight and also without costs for us all.
To let yourself anchor in the Source Consciousness, in your own Love, and Light is a gift for yourself and the World. The Darshan / Umoja Source meetings are available with an entry level contribution or to your own insight and also without costs for us all.
Umoja's Love,
No word, name, thought or understanding
can describe her.
The word that comes closest is our vitality that supports the interconnectedness of everything as one pulsating consciousness.
We are this consciousness,
Keesjan van der klooster
Keesjan and Umoja's transition
Humankind is in a period of transition nowadays and Keesjan is here partly to guide this transition of the individual I- consciousness to the we-are-one consciousness. To let yourself anchor in the Source Consciousness, in your own Love, and Light is a gift for yourself and the World.
"THE LOVING, PURE AND EMPOWERING SOURCECONSIOUSNESS THAT IS BEING PASSED THROUG, KNOWS NO LOGIC THE MIND CAN COMPREHEND. IT RESSONATES DIRECTLY WITH THE WISDOM OF YOUR PHYSICAL BODY AND HEART"
Because of your presence consciously, you will be attuned in an authentic way to the vibrations of the universal consciousness. With exactly what it is, you need for your spiritual evolution. You don't have to work hard for this, it goes by itself. And because of this, you can remember and experience the harmony of your soul. This will manifest itself step by step in the inspiration and expression of who you are in reality.
THIS ILLUMINATING SOURCE CONSCIOUSNESS IS BEING SHARED AND TRANSMITTED DURING SEVERAL SOURCE ENCOUNTERS
This illuminating source consciousness in a Divine forcefield can have different forms. You choose the form that fits you the best now; the source consciousness is the same always. In all setting you receive exactly that, what you need in that moment, conscious or subconscious, from the wisdom of your soul. This brings possible healing, alignments, realizations and transformations.
The experience and result of the source consciousness of Umoja is different for everybody every time. Most of the time it is not possible to express in words what it is exactly that you have experienced; what can be expressed is, that it is a unique experience that will work through timelessly.
"AN UMOJA SOURCE ENCOUNTER IS A GIFT FOR YOURSELF AND THE WORLD"
Because you attend one or more group or individual encounters you will integrate more and more of yourself in your daily life. Trust that everything that happens during and after a session is part of your development and destination. An umoja source encounter is a gift for yourself and the world.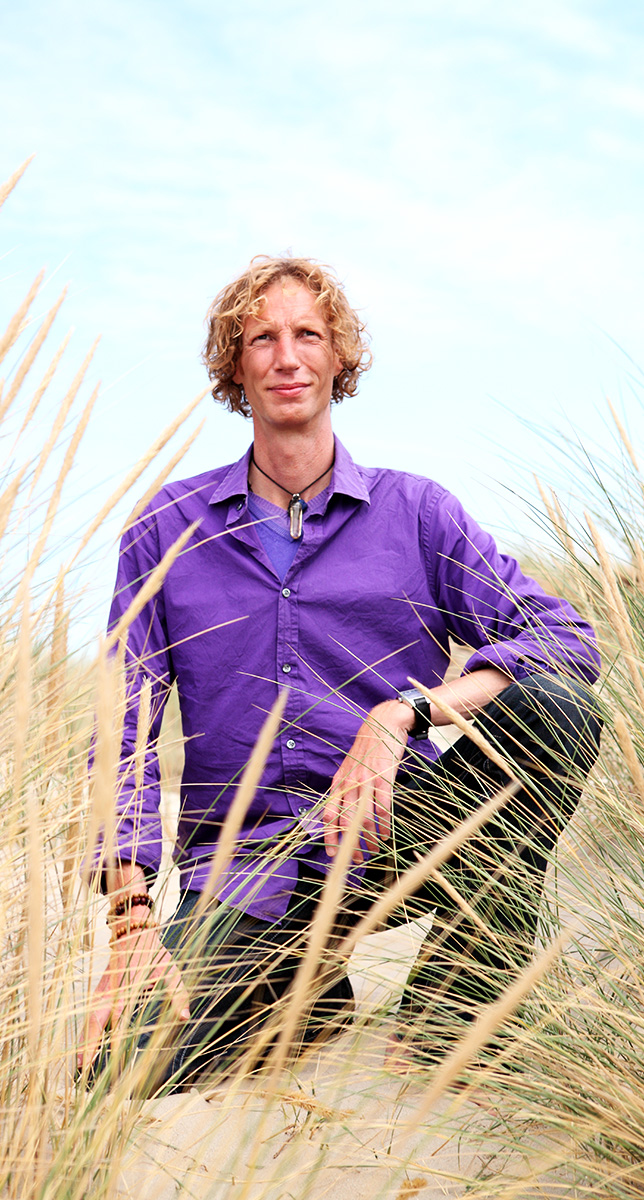 The life of keesjan
The gift of keesjan

Ervaringen
Petra
Had no idea what was coming but I was happy to notice that I could surrender myself totally to the session. Special were the vibrations, (that is what I call it) that moved through my body. First I thought that it was in the floor, the first vibrations were felt strongly in my legs and lower body. It was a pleasant and new feeling, as in wow, this feels great. Later very refined vibrations happened in my spinal cord. I don't know how high, I could feel it in my chest area. There was also working in my throat and forehead chakra.
Mariette
felt in silent joy, understood that the greatest intimacy of oneness of falling together, is to not interfere, and just be, being in every fiber, in every color when light falls through a crystal, this I felt when you lay down on the mat Sunday next to me and the experience was going deeper and you didn't interfere. We were only and were invited to experience it even further.
Chantal
First I want to thank you with all the love for the session that I was able to attend. It's hard to explain, but it certainly is wonderful. Saying goodbye was a bit uncomfortable, I wanted to give you a big hug actually!
Esther
In this way I wish to express my deepest gratitude, because I was assisted so lovingly after the session, through you I received the most deep, intense and loving soul experience of my life!
Your Contribution Supports Charities
We are one big family, all living beings, we have to nurture this special place where we are born and die. There are groups within our family that Keesjan would like to give support in the form of money, so that they can live their life and we can function in oneness as one big family.

An important part of the source encounters that Keesjan chooses consciously is that you can give a contribution to your own insight and ability. And if for whatever reason you're not able to, there is still the possibility to attend the gift of the source without costs. A certain percentage of the contribution of everyone who participates in these encounters will be given to charities that Keesjan feels intuitive are important. This can be different for every country. Of course you are also welcome to donate without attending a session.
Read more
Keesjan van der klooster
Keesjan van der Klooster was born on 13 november 1973 and grew up in the south west part of Holland in a village called Westerschouwen in the area of Zeeland. He spent his childhood in nature, were he wood spend hours wandering around with his dog or horse. It was normal for him to feel one with everything around him.
Read more
---